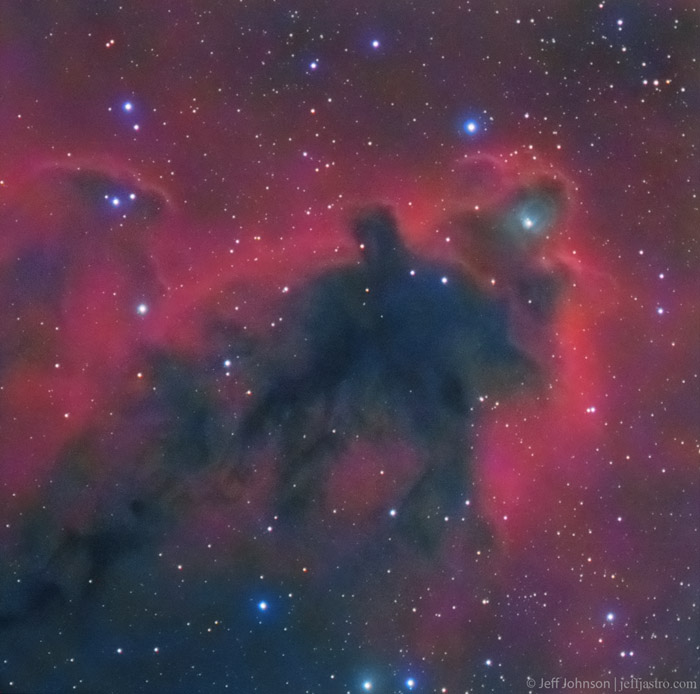 OBJECT

The Boogie Man Nebula (LDN 1622) (image is reduced-size | other sizes: medium , original)

Distance: 1,360 light years

Telescope
Takahashi TOA-130F @ f/7.7
Mount
Takahashi EM200 Temma II
Camera
QSI 540wsg @ -15C (last light for the 540 - later sold to upgrade to 690)
Filters
Astrodon Ha (3nm), Astrodon Tru-Balance I-Series LRGB Gen 2
Guider
SX Lodestar
Settings
12x20min Ha, 5x10min L (bin1x1); 2x5min ea RGB (bin2x2); AstroArt5, CS4 (slightly cropped, 10xdarks/flats/fdarks/bias)
Date/Location

Notes
24 November 2017 (RGB data from 11 Feb 2016) - Las Cruces, NM

Published in Space.com, 12 Feb 18 (screenshot).

As luck would have it (this attempt was a re-visit to improve data, described below), clouds rolled in through part of the data session. Also, color data on this night (similar to my attempt in Feb earlier this year) was not usable - just too much light pollution, so *again* pulled the data from the FS-60C that I collected prior. This re-visit for the year was to improve focus from the Feb 2017 effort. This image is LHaRGB, where Ha was used in combination with Luminance and Ha:R (80:20) was used for the Red channel.