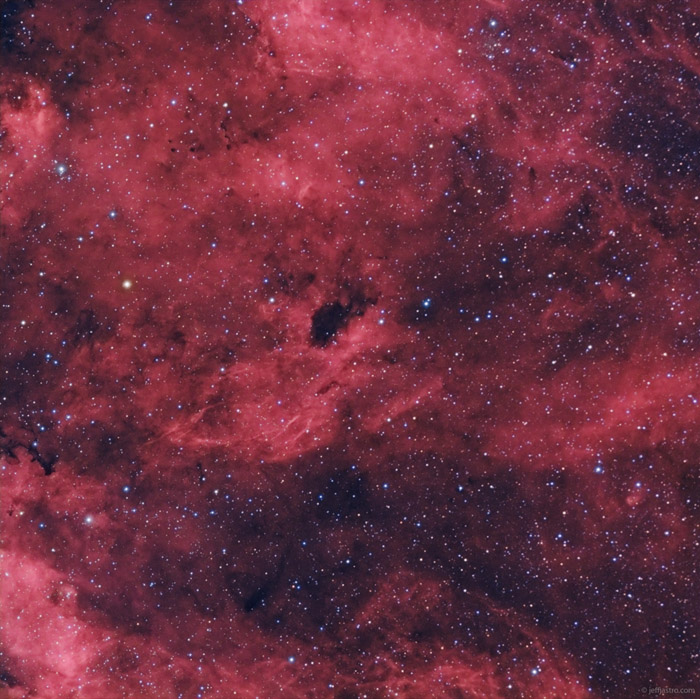 OBJECT

Barnard 343 - Dark nebula in Cygnus (w/cluster IC 1311 toward upper right) (image above is reduced-size | other sizes: medium , original)

Distance: ??? light years

Telescope
Takahashi FS-60C @ f/6.2
Mount
Takahashi EM200 Temma II
Camera
QSI 540wsg @ -10C
Filters
Astrodon Ha (3nm), Astrodon Tru-Balance I-Series LRGB Gen 2
Guider
SX Lodestar
Settings
5x15min Ha; 2x5min ea RGB (all bin1x1); AstroArt5, CS4 (slightly cropped, 10xdarks/flats/fdarks/bias)
Date/Location

Notes
30,31 August 2014 - Las Cruces, NM

Published as Astronomy Magazine Picture of the Day, 17 Aug 15 (screenshot).
Published as From Quarks to Quasars APOD (w/article), 31 Mar 15 (screenshot).
Published as Amateur Astronomy Picture of the Day (AAPOD), 17 Jan 15.
Published in Astronomical League's quarterly Reflector Magazine, Dec 2014 issue, pg 19 (screenshot).

Imaged over two nights. Widefield view of Barnard 343 which I originally imaged last year with the TOA-130F. The above result, however, is using the smaller FS-60C scope for a wider view. I used a technique to add synthetic "Lum" data using the RGB (bin1x1) frames. Final result is Ha_HaRGB, where Ha was used as Luminance, with some stars brought in from the RGB channel, as I describe above. Ha:R (80:20) was used for the Red channel. Sadr (earlier work) is directly to the left of this area (and out of this field of view).