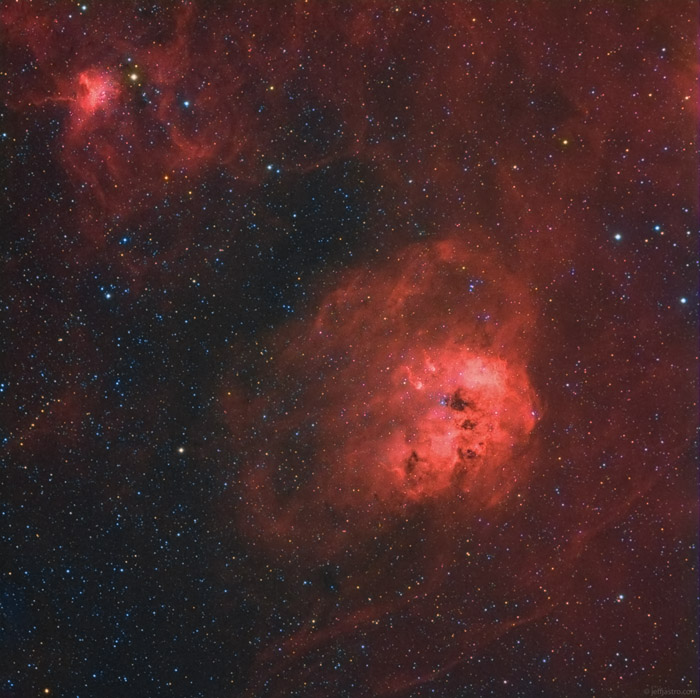 OBJECT

IC 410 ("Tadpoles" - below right of center) and IC 417 (upper left corner) (image above is reduced-size | other sizes: medium , original)

Distance: 12,000 light years

Telescope
Takahashi FS-60C @ f/6.2
Mount
Takahashi EM200 Temma II
Camera
QSI 540wsg @ -15C
Filters
Astrodon Ha (3nm), Astrodon Tru-Balance I-Series LRGB Gen 2
Guider
SX Lodestar
Settings
13x15min Ha; 3x5min ea RGB (all bin1x1); AstroArt5, CS4 (slightly cropped, 10xdarks/flats/fdarks/bias)
Date/Location

Notes
6 January 2014 - Las Cruces, NM

Published as Astronomy Magazine Picture of the Day, 27 Dec 16 (screenshot).

The "Tadpoles" can be seen just below and right of center, and they appear to be "swimming" to the southeast from this image's perspective. In the upper left corner is IC 417. This image is Ha_HaRGB, where Ha:R (80:20) was used for the Red channel, and Ha for Luminance.