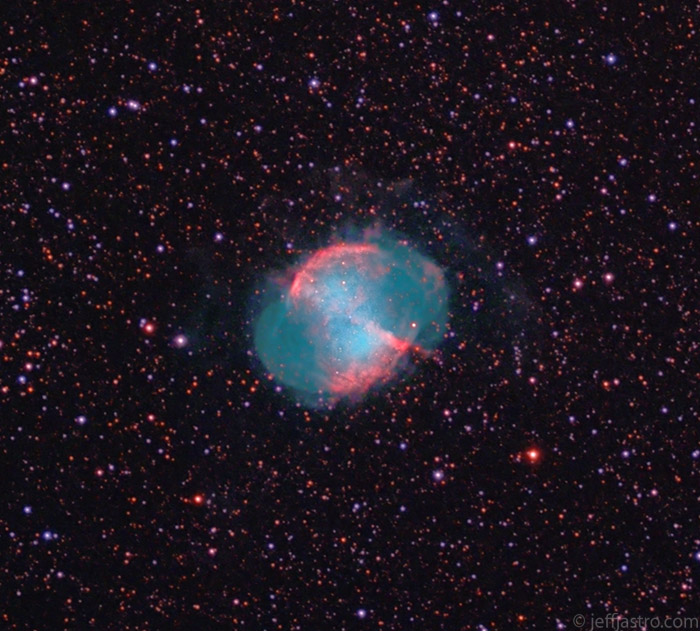 OBJECT
M27 - NGC 6863 (Dumbbell Nebula) (image above is reduced-size crop | other sizes: medium , original)

Distance: 1,360 light years

Telescope
Takahashi TOA-130F @ f/7.7
Mount
Takahashi EM200 Temma II
Camera
QSI 540wsg @ -15C (0C for 26Jun12 RGB)
Filters
Astrodon Ha 3nm, Astrodon Tru-Balance I-Series LRGB Gen 2
Guider
SX Lodestar
Settings
4x15min L; 2x20min Ha; 1x5min ea RGB (all bin1x1); 2x2.5min ea RGB (bin2x2); AstroArt5, CS4 (slightly cropped, 10xdarks/flats/fdarks/bias)
Date/Location

Notes
26 November 2014 (LHaRGB), 26 June 2012 (2.5min RGB subs) - Las Cruces, NM

Published as Astronomy Magazine Picture of the Day, 4 Oct 16 (screenshot).
Published in Astronomical League's quarterly Reflector Magazine, Jun 2015 issue, pg 22 (screenshot).
Published 2 Mar 15:
- 6th slot in Space.com "March 2015 Night Sky Photos" (screenshot)

Data collected over two different years (2012, 2014), this image is LHaRGB, where I combined data I collected on 26 Nov 14 with RGB data from 26 Jun 12. I used L:Ha (50:50) for the Lum channel, all other channels 100% each, with a blend of RGB from each of the two different years. The orientation is rotated 180 degrees from my 2012 result to better present this planetary nebula's outer emission areas.