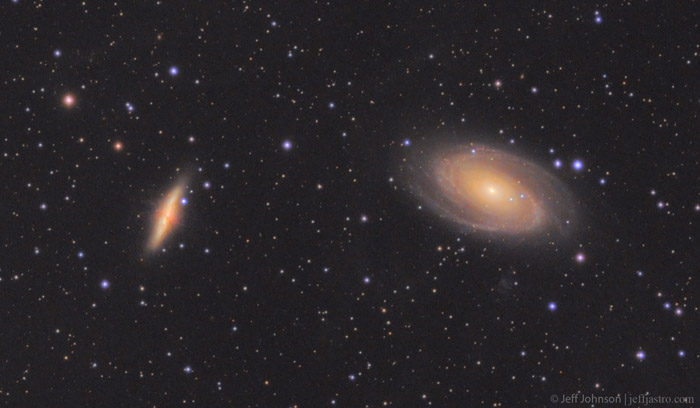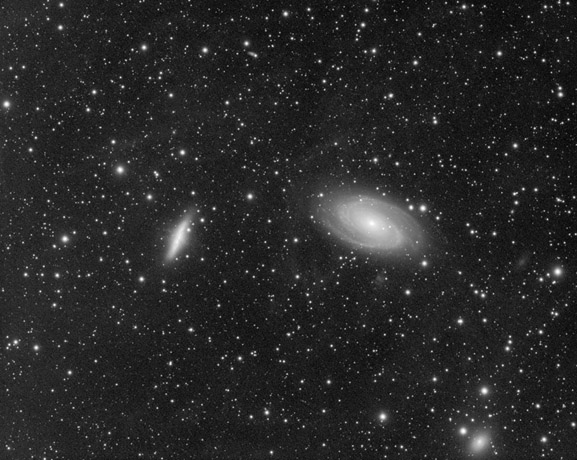 IFN appears as dust/clouds over entire image, above (image is slight stretch of Lum channel).
OBJECT

M81 (Bode's w/Holmberg IX) and M82 (Cigar) (and NGC 3077, bottom right) (top image is reduced-size | other sizes: medium , original)

Distance: 12 million light years to M81 and M82

Telescope
Takahashi FS-60C @ f/6.2
Mount
Takahashi EM200 Temma II
Camera
QSI 690wsg @ -10C
Filters
Astrodon Tru-Balance I-Series LRGB Gen 2
Guider
SX Lodestar
Settings
20x10min L (bin1x1); 5x5min ea RGB (bin2x2); AstroArt5, CS4 (cropped, 10xdarks/flats/fdarks/bias)
Date/Location

Notes
25 October 2019 - Las Cruces, NM

From my new darker location in Las Cruces (moved in October 2019), the very faint Integrated Flux Nebula (IFN) can be seen - bottom Lum-only image. Much more easily seen than in my prior work from my location in the north/bright part of of the city! The IFN is a little-studied complex of diffuse dust and clouds in our own Milky Way Galaxy ~ (text from APOD).