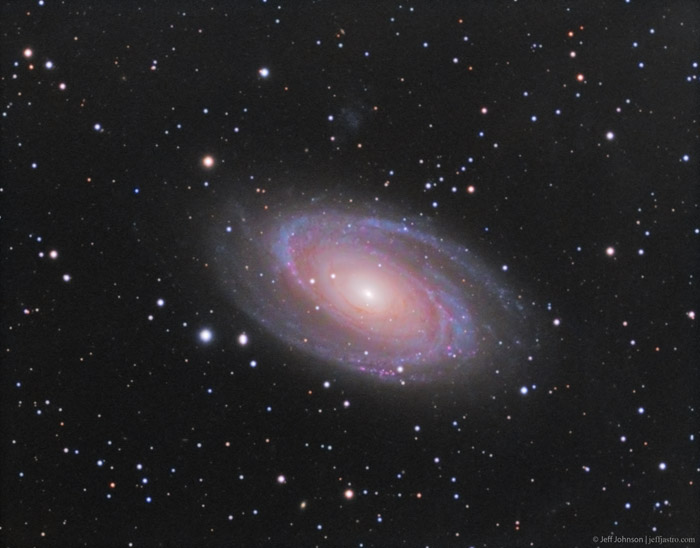 OBJECT

M81 - NGC 3031 (Bode's Galaxy, with faint Holmberg IX above M81) (image is reduced-size | other sizes: medium ,,original)

Distance: 12 million light years

Telescope
Takahashi TOA-130F @ f/7.7
Mount
Takahashi EM200 Temma II
Camera
QSI 690wsg @ -15C
Filters
Astrodon Tru-Balance I-Series LRGB Gen 2
Guider
SX Lodestar
Settings
18x10min L (bin1x1); 2x5min R, 3x5min ea GB (bin2x2); AstroArt5, CS4 (slightly cropped, 10xdarks/flats/fdarks/bias)

Date/Location

Notes

23 January 2018 - Las Cruces, NM

Published in BBC Sky at Night Magazine, Sep 2018 issue (magazine bonus material) (photo).
Published in All About Space Magazine, Issue 82, Sep 18, pg 91.
Published as Astronomy Magazine Picture of the Day, 28 May 18 (screenshot).
- also on Facebook, here.

This image is LRGB, only. If you do a stretch of this, you can see I picked up some IFN...even with my light polluted skies. Lost an R frame in this session unfortunately, so carefully managed color. Also, combined a slight amount of color from my 2013 session (also with TOA and using previous QSI camera).