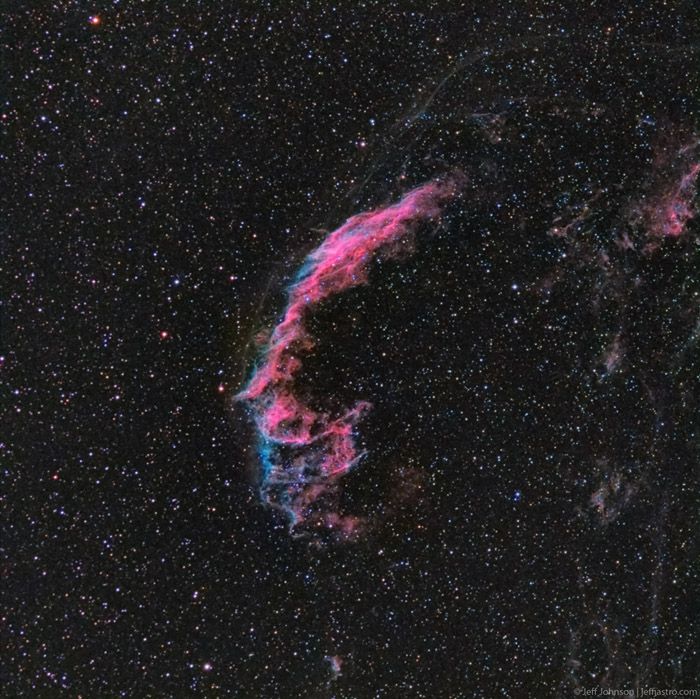 OBJECT

Eastern Veil Nebula (including NGC 6995 and Southeastern Knot) (image above is reduced-size | other sizes: medium , original) An "Ha-only" view of this area is here.

Distance: 1,470 light years

Telescope
Takahashi FS-60C @ f/6.2
Mount
Takahashi EM200 Temma II
Camera
QSI 540wsg @ -10C
Filters
Astrodon Ha (3nm), Astrodon Tru-Balance I-Series LRGB Gen 2
Guider
SX Lodestar
Settings
9x20min Ha, 3x5min L (bin1x1); 3x5min ea RGB (bin2x2); AstroArt5, CS4 (slightly cropped, 10xdarks/flats/fdarks/bias)
Date/Location

Notes
12 June 2015 - Las Cruces, NM

Published as Astronomy Magazine Picture of the Day, 11 Mar 16 (screenshot).
Published in Chinese National Astronomy magazine, December 2015.
Published in All About Space magazine, Issue 43, Sep 15, pg 90.
Published in Cosmic Pursuits, 11 Aug 15.

This widefield view of the area around the Eastern Veil Nebula includes NGC 6992 (top part of main nebula); NGC 6995 (near center); IC 1340 below NGC 6995; the Southeastern Knot as a lone nebulous area near bottom center of image; and finally NGC 6974 at edge of upper right portion of frame. This deep image is LHaRGB, including 3 hours of Ha data, where Ha was used in combination with Luminance and Ha:R (80:20) was used for the Red channel.