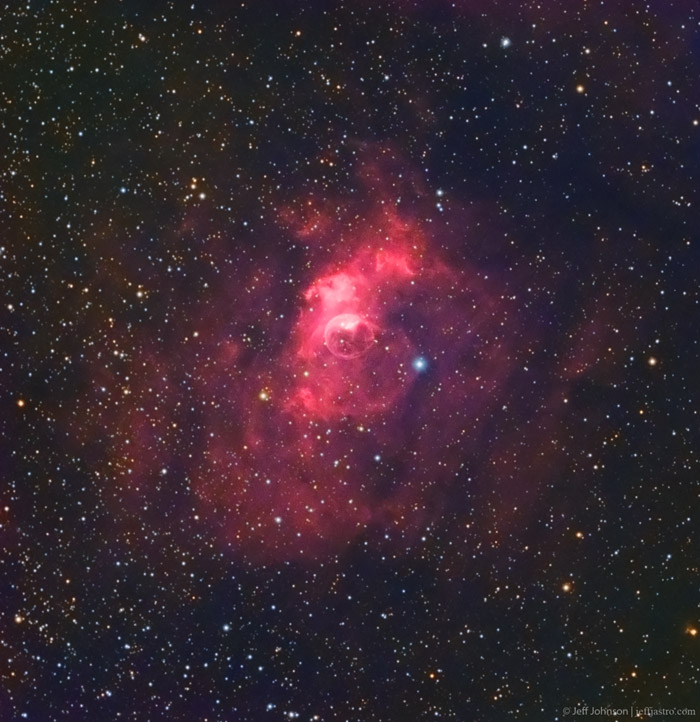 OBJECT

NGC 7635 - Bubble Nebula (image is reduced-size | other sizes: medium , original)

Distance: 7,100 to 11,000 light years

Telescope
Takahashi TOA-130F @ f/7.7
Mount
Takahashi EM200 Temma II
Camera
QSI 540wsg @ -15C
Filters
Astrodon Ha (3nm), Astrodon Tru-Balance I-Series LRGB Gen 2
Guider
SX Lodestar
Settings
12x10min Ha, 3x10min L (bin1x1); 4x5min ea RGB (bin2x2); AstroArt5, CS4 (slightly cropped, 10xdarks/flats/fdarks/bias)
Date/Location

Notes
3 September 2017 - Las Cruces, NM

Published in BBC Sky at Night Magazine, Feb 2018 issue (PRINT), pg 31 (photo).
Published as Astronomy Magazine Picture of the Day, 15 Dec 17 (screenshot).
Published as Space.com "100 Most Amazing Space Photos of 2017" (screenshot).
Published as Space.com "Space Image of the Day":
- 28 Nov 17 slot (screenshot)

This image is LHaRGB, where Ha was used in combination with Luminance and Ha:R (80:20) was used for the Red channel.